Anti-Government Movement Exacting Big Toll on Minorities
Posted by Bill Conroy - September 5, 2011 at 5:08 pm
Government Budget Slashing Disproportionately Affects Jobs Held by People of Color, Data Shows
Labor Day 2011 is upon us and we ring in this day with some figures that are rarely presented in clarity in the mainstream media: The number of people in our nation who are eligible to work, but who are without work, now stands at 41.5 percent.
That's right, nearly half of the United States' available workforce is on the sidelines, either unemployed or out of the labor market (by choice or circumstance). The breakdown, according to a U.S. Department of Labor study released in August 2011: 139.1 million employed Americans; 98.8 million Americans who are either unemployed or not in the labor force — even though they are eligible to work.
Now, only some 15 million, or about 9.6 percent, of that out-of-work figure represents the unemployment figure typically reported in the media. The balance of nearly 84 million represents folks 16 years and older who have either given up on looking for a job, or who by choice, due to their economic circumstances, have decided they do not need a job — the spouses and families of the mega-rich among them.
Still, the 41.5 percent figure, current as of 2010 according to the DOL study, should give us moment to pause and consider what's going on out there in the land of "free enterprise," if so many people are now out of the game, regardless of the reasons.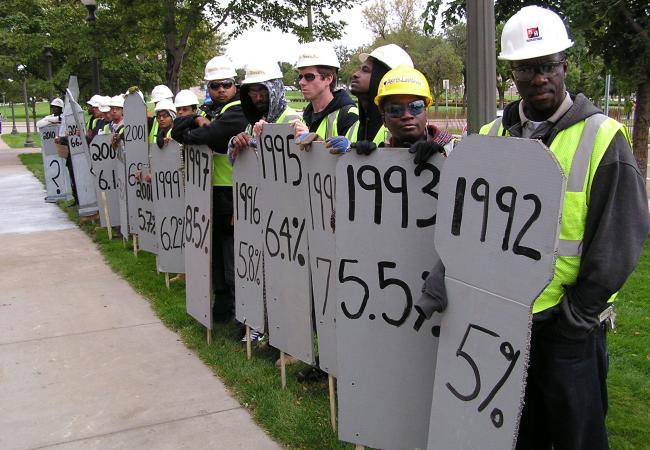 One ugly scenario that is at the root of these Depression-era like employment figures is, unfortunately, the race card, which, as in past economic downturns, always gets played under the table (absent much serious media scrutiny) when it comes to the fate of minorities in the US labor force.
Part of that lack of scrutiny might have to do with the make-up of the US media itself. The percentage of minorities in US newsrooms in 2011 stood at less than 13 percent, after three straight years of decline, according to an April 2011 report by the American Society of News Editors.
From an ASNE press release announcing the report:
"At a time when the U.S. Census shows that minorities are 36 percent of the U.S. population, newsrooms are going in the opposite direction. This is an accuracy and credibility issue for our newsrooms," said Milton Coleman, ASNE president.
The Big Picture
DOL figures current as of August of this year show that the unemployment rate among whites nationwide is 8 percent, a painful figure to be sure, but it is a staggering 16.7 percent for blacks and an equally shocking 11.3 percent for Hispanics.
And these dour figures on the minority employment front during this Great Recession promise only to be made worse by anti-government enthusiasts who seek to convince voters that it is possible to cut our way to prosperity.
In fact, it can be argued convincingly that the move afoot to slash state and federal budgets as part of that deficit-reduction hysteria represents a direct assault on diversity in the labor force, and more specifically on the gains minorities have made in the past decades in the government labor marketplace.
The National Active and Retired Federal Employees Association released a report recently, based on U.S. Census Bureau data, that contradicts the heated rhetoric now common in the media concerning the so-called "bloated" federal workforce. The report shows that since 1990, the size of the federal workforce has actually dropped by some 200,000 employees.
Despite that reality, the publication Federal Times recently reported that: "Many Republicans have introduced legislation or voiced proposals to cut the federal workforce. The cuts they call for range from 10 percent — roughly 200,000 jobs — to 15 percent, or 300,000 jobs."
This federal-workplace bloodletting is on top of the jobs that are already being slashed by "cut-and-gut" governors and legislatures at the state level. A recent Reuters report indicates that some 200,000 local and state government jobs were "axed" in 2010. And these state-level job cuts are often accompanied by additional assaults on diversity, such as Wisconsin Gov. Scott Walker's recent executive order that suspends a requirement that contractors working state construction jobs make an effort to hire minority and women apprentices.
The purging of government payrolls via budget cuts and the rolling-back of diversity rules can be expected to disproportionately affect minorities, given they have had more success as a group in securing work in the government sector than in the private sector.
As evidence of that fact, a recent report released by the US Office of Personnel Management, with figures current as of fiscal year 2010, shows that minorities represent nearly 34 percent of the federal workforce, while whites account for about 66 percent. However, in the civilian labor market overall, according to the same report, whites represent more than 70 percent of the labor force – yet only comprise 63.7 percent of the overall US population, according to the US Census Bureau.
So it appears whites are represented in the federal workforce at a level that is nearly on par with their share of the US population, yet are over-represented in the employment ranks in the civilian workforce overall. Simple math then tells us that minorities are underrepresented in the civilian labor force, but have had a bit more success in achieving parity in employment in the federal workforce.
From those numbers, it seems logical to conclude that any effort to slash federal jobs, given minorities are more highly represented in the federal workforce, will certainly lead to a disproportionate effect on those minorities — who are already disproportionately affected in terms of their unemployment levels in the overall workforce.
Race Wildcard
The one minority subgroup for which the federal government has not proven to be a safe haven in terms of jobs is Hispanics [a term used by government number crunchers to denote individuals of Latino descent]. Hispanics, according to the OPM report, constitute only 8 percent of the federal workforce, compared with 13.4 percent of the overall civilian labor market.
This pattern of under-representation dates back at least to 2000, when President Bill Clinton issued an executive order designed to address the lack of employment parity for Hispanics in the federal workforce. At that time, Hispanics comprised only about 6.5 percent of all federal workers. That figure has advanced little since then — now at only 8 percent, where it has been stuck for the past three fiscal years, according to federal reports.
The anemic progress on the Hispanic employment front since Clinton issued his edict in 2000 is a sign that a similar executive order inked last month by President Barack Obama is also likely to have little effect, according to Ruben Gonzalez, a former high-ranking supervisor within the Department of Homeland Security's Bureau of Immigration and Customs Enforcement (ICE) in Houston.
Gonzalez in 2009 settled a discrimination lawsuit against DHS after battling the agency in the courts for more than a decade. From 1999 to 2002, while an ICE agent, Gonzalez applied for more than 30 supervisory positions. He made the "best-qualified" list for each post sought, "yet he was never interviewed for any of them," according to a class-action lawsuit filed against DHS that included Gonzalez as a plaintiff. When Gonzalez finally did receive a promotion in March 2002, he was forced to move his family from the East Coast to Houston.
Gonzalez says Obama's executive order, like Clinton's, will prove to be little more than adhesive-less red tape if it lacks strong enforcement provisions. Obama's order calls for a "coordinated government-wide initiative to promote diversity and inclusion in the federal workforce."
Gonzalez stresses, however, that unless "those who violate the rules [with respect to equal opportunity employment and discrimination] are punished," then nothing will change.
"The president can't be responsible for everything, but he does need to articulate what the problem is," Gonzalez adds.
And that problem, as Gonzalez sees it, is the existence of a "good ol' boy network" in control of the leadership posts of the federal bureaucracy, a network that has the ability to stonewall and otherwise undermine even presidential directives by the mere fact that they know how to bend the rules to their benefit. have no real fear of punishment for their actions in that regard, and also know, as career public servants, they will ultimately outlast the president.
The numbers seem to bear out Gonzalez' assessment. Despite the overall progress minorities have made in the federal workplace, they continue to be woefully underrepresented in the top ranks of the federal bureaucracy.
The OPM report shows that as of Sept. 30, 2010, whites held more than 80 percent of the senior-pay-level jobs in the federal bureaucracy (the jobs least likely to be affected by budget cuts) — with blacks at 6.7 percent and Hispanics at an anemic 4.7 percent.
Obama's executive order calling for the promotion of diversity in the federal workforce does contain some language requiring "agency accountability" but what that "accountability" might be is not spelled out. Gonzalez is quite sure that unless it puts the leadership of the agencies at risk of meaningful budget penalties, fines, demotions or job loss, it will, in the end, be ineffectual.
"We have to be honest about what the problem is here," Gonzalez says. "It is discrimination, racism, plain and simple. And how do you stop it? You stop it ... by imposing a punishment."
Labor Day in Deed
So, it seems clear that the White House has to do far more than issue orders and reports to truly create a diverse federal workforce that leaves no qualified employee behind. And it has particularly heavy lifting to do on that front with respect to Hispanic employees, who have been left behind under past White Houses under both parties.
But it is equally true that plans being pushed in Washington to gut government as part of the misguided effort to cut our way back to "prosperity" will, in effect, produce a far worse fate for minorities than any toothless executive orders. The anti-government agenda — ironically being promoted by many in government — threatens to roll back decades of advancements made by people of color now working in the government sector, since they will be disproportionately affected by a slashing of government jobs (both the existing employees and those seeking work in the future).
This outcome, coupled with the already skyrocketing unemployment rate for minorities in the civilian labor force, reveals the framework of an insidious institutional racism that, left unchecked, promises to severely undermine the economic advances made by minorities since the Civil Rights era.
But none of this is really new, even if it is under-reported or otherwise glossed over in the predominately white mainstream media.
Nor, more importantly, is its result pre-ordained, as the history behind Labor Day should remind us: Without solidarity and struggle, there is no progress.
Stay tuned….
Share
|