Mexican Military Commander Removed Following Disappearance Investigation
Posted by Erin Rosa - July 13, 2011 at 7:28 pm
Shake Up Happens After Morelos Lawmakers Support Withdraw of Soldiers from Streets
The Mexican Secretariat of National Defense has just announced that it will transfer a leading military commander to another state, right in the middle of an investigation that ties his subordinates to the alleged kidnapping, torture and murder of a civilian in the city of Cuernavaca.
General Leopoldo Díaz Pérez, who oversees the 24th military zone in the state of Morelos, will be moved to a position in the state of Sinaloa in the next few days, according to
media reports
. A little over a week ago, the military announced that two soldiers based at the zone had been arrested for the disappearance of Jethro Ramsses Sánchez Santana (pictured right), who has been missing since May 1.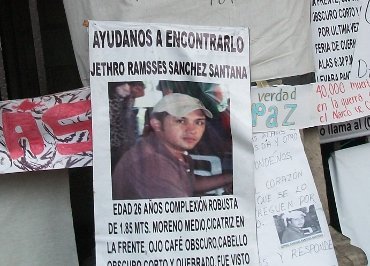 Sánchez's story gained international attention after a nonviolent movement to end the drug war in the country brought awareness to the case as an example of the growing problem of impunity with law enforcement officials in the war on drugs. After the
arrests
of the soldiers, human rights defenders called for an investigation into Díaz Pérez, since Sánchez was allegedly handed over to the military after being arrested by municipal police following a scuffle outside of a restaurant.
As
El Sol de Cuernavac
a newspaper
notes
, the General's departure comes right after the state congress called for his removal, and for the military to stop patrolling the streets:
...Yesterday, local deputies spoke in favor of the withdraw of military forces and an immediate change in command of the 24th military zone, Leopoldo Díaz Pérez.

In a parliamentary session yesterday, the majority of local lawmakers approved an agreement asking the Secretariat of National Defense and the Mexican Navy to leave the streets and towns of Morelos. That is, for them to fall back to their military camps.
Although authorities are awaiting DNA test results to prove if a body found in the state of Puebla is Sánchez, his family has told
El Diario de Morelos
that inconsistencies and omissions in the investigation by law enforcement authorities have caused them to be wary of any conclusions. The article
says
that Díaz Pérez should have had knowledge of Sánchez's detention, but that he has denied three times that he was aware of it.
Share
|