Time to Plant The Field
Posted by Al Giordano - March 31, 2009 at 10:21 am
By Al Giordano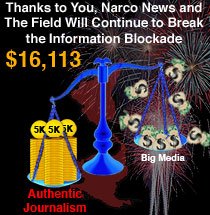 "Sí se puede!"
- César Chávez, born 82 years ago today
Some readers of The Field may not be aware that while I've posted 75 stories and essays on this page - and responded to so many more of your comments and questions - since January 1, I've also been directing an international online newspaper, Narco News, which has published 150 important news stories and translations from throughout the American hemisphere in these same first three months of 2009.
Narco News also hosts The Field, where since we moved here in June 2008 we haven't had to worry about any pesky censorship problems!
Many of those reports have investigated and broken important news stories, especially, lately, regarding the increasingly heavy cloud of drug war violence in Mexico along the US border and its true causes. As a parade of US officials conduct high profile visits south of the border – last week, Secretary Clinton, and, soon, Secretary Napolitano, Attorney General Holder and President Obama next month – our reporters are daily supplying the public and those that make decisions with better, more accurate, information that the commercial media and agency bureaucrats have shrouded with their false narratives.
That part of my daily workload - one that's been my joyous responsibility for the past nine years - may not be as interesting or important to every single reader of The Field (many simply share my status as "political junky" and come here to share that special fix that I enjoy offering) but keeping the Narco News projects doing that work is the Sina Qua Non (that without which "nothing else can happen") of keeping The Field publishing, too. And one need only peruse the front page of Narco News to see the gravity and excellence of authentic journalism at work.
As I note in today's appeal, the $10,000 readers donated in December has fueled, over three months, a total of 225 reports on these pages, a third of them – 75 in 90 days - at The Field.
Today we're asking for your donations to keep this work going in the coming months, with a goal of $15,000. And we're inviting all donors of $100 or more to attend the Narco News Ninth Anniversary Celebration in New York City on April 22. (We did it in Manhattan two years ago, and folks still talk about that great party today: not to be missed, if you can make it.)
So please donate what you can (you may have some Stimulus tax rebates coming soon, no?) and, to help encourage others to do the same, use the comments section here to let us all know the amount you've contributed or that you pledge to contribute in the next three weeks.
Know the satisfaction when you watch the scales tip, on our fund campaign graph, that they do so thanks to your contribution, and that you are part of shifting power away from Big Media and back toward Authentic Journalism.
Please donate today, online, via the website of The Fund for Authentic Journalism (where your contributions are tax-deductible in the US).
Or send a check via snail mail to:
The Fund for Authentic Journalism

PO Box 241

Natick, MA 01760 USA
In the past 90 days, we've accompanied you through the change in administrations in the United States, navigated with you through the shoals Big Media lies and the squalls of panicked blogosphere poutrage, administered countless Chicken Little vaccinations free of charge, kept the spotlight on the grassroots and community organizing activities that almost everybody else has ignored, granted six scholarships in journalism and organizing, and, according to what many of you have said, saved some of you from expensive mental health care costs, too!
Most importantly, I hope I've regularly provided you with news and information you otherwise wouldn't know today, offered some different and more interesting lenses through which to view it all, and given you plenty to think about, discuss out there in the real world, and act upon.
If you're appreciative of what we've offered here absolutely free of charge, and hope as I do that we can keep giving it away, please consider making such a donation. You already know that size doesn't matter: that this project is fueled by many small contributions, saving us from dependence on advertisers or other pressures from above.
And whether your contribution is $5 or $500, it qualifies you for a co-publisher account, which allows you to comment without moderation here at The Field, and also at Narco News and on The Narcosphere, where co-publishers have your own blogs, too.
The sooner we meet our spring appeal goal of $15,000, the sooner I can get back to focusing the attention I'd like to give to reporting politics and policy in the United States via The Field. Many Field Hands make light – and fast – work. You've always risen to the challenge before. Thank you so much for that. And thank you, in advance, for rising again to it today.
- Al